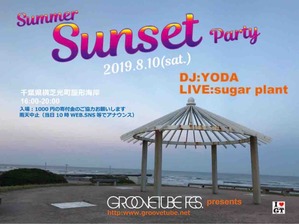 ライブします!
真夏のサンセット・ビーチで
sugar plantをこころゆくまでご堪能ください!
GROOVETUBE FES presents
SUMMER SUNSET PARTY
Sat Aug.10 2019
16:00〜20:00
@千葉県横芝光町屋形海岸
 Yagata Beach, Yokoshiba Hikari Machi Chiba Prf.
*松尾駅からバスまたは横芝駅からのタクシー。お車の場合は会場隣に駐車場有。
*Take a bus from Matsuo Sta. or Taxi from Yokoshiba Sta. Parking lot is available next to the beach.
Entrance: Free with donations (1,000yen)
LIVE: sugar plant
DJ: YODA
※雨天中止(当日10時GROOVETUBE FESのWEB, SNS等でアナウンス)
Rainy day cancellation is announced on the WEB and SNS of GROOVETUBE FES at 10:00 on the day.
Info:
groovetube.net